Description
Anemometer to determine volume flow rate in air and water
Two mini slow sensors selectable / USB interface / Optional software /
Sensors not included in delivery
The anemometer P-770-M is ideal for measurement tasks which count on high precision or / and where an online record is also demanded. Thus the anemometer stands out due to its high accuracy of  ±1 % from terminal value. Since the anemometer is equipped with two input channels, you can optionally connect to one of the flow sensors a temperature sensor (Pt100) simultaneously. By that the instrument is especially applicable for operation in areas of environmental technology as well as biology and laboratories. Both of the mini flow sensors can be used either to gauge the air speeds or to collect the flow-rate of water (e.g. in water or rivers). The broad application range covers measurement for purposes of quality control according to ISO 9000, as a reference device for checking production, for comparison measurements in service and maintenance, as well as long term monitoring with direct online documentation (additional software and computer data cable need to be ordered).
One of the advantages of having such a precise and accurate measuring tool as anemometer P-770-M is a possibility of its application for comfort-level-at-the-workplace control and in particular, for detection of drafts. Independent of the specifics of the workplace (may be office, warehouse, vehicle, big spacious rooms, etc), the ambient condition must meet the official requirements and provide firstly comfort and safety.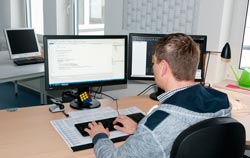 Even if at the first sight, the conditions are perfect and there is enough light and space, the temperature is optimal and the required equipment is provided, there is one more and not the least important aspect and that is HVAC systems and airflow check. Drafts at work may be extremely dangerous, because their impact is always local, and if a certain part of the body is exposed to the draft over a long period of time regularly it may lead to the development of very serious and aggravating consequences and health problems (neuralgia, otitis, bronchitis, tonsillitis, inflammations). What makes it especially dangerous is the fact that very often the air flow velocity is very small and may be often ignored and not even detected by the person at once. That is why the application of a highly precise anemometer capable of detecting even the smallest airflows is highly recommended and even mandatory for carrying out correct and profound checks of the conditions at the workplace. The small and accurate device helps to find the leaks, cracks, untight places and eliminate the problem. Because of its high accuracy and sensitivity, the anemometer is also suitable for the rooms, like laboratories, where any influences of the drafts and moving airmasses must be under strict control.
– Two sensor inputs (for volume flow mini sensors and Pt100 – sensors)
– For measurement in air and water
– With USB online interface
– Windows software SmartGraph as optionally purchasable equipment (for graphic and tabular recording)
– High measurement accuracy
– Integrated calibration function for simple compensation of sensor tolerance
– 2 Measuring channels usable
– Large well-arranged display with integrated bar graphic tendency index
– Recording of max-, min-, -hold-, and average values
– Integrated sensor stand allows single-hand operation
– Operation by adapter possible
– Simultaneous display of 2 measuring values
– All Pt100 inputs are 4 – conductors